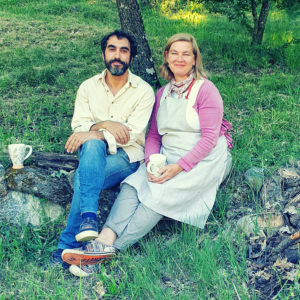 Our ceramics careers started in a small workshop on the ground floor of a beautiful building on Cava Alta street in Madrid that we shared with other potters. Much of the work we continue to make to this day comes from those early pieces made in that studio, simple thick rustic wares made with red earthenware clay. This design is partially inspired by the work of Don Ramón Segura, a great friend and mentor who taught us how to fire a wood burning kiln. Originally from a family of Potters of Níjar (Almeria) he popularized the white ceramics of Ronda.
After several years living, working and teaching in Madrid, we decided to travel in order to visit other workshops and artists. We spent 3 months in a small village in West Bengal, India in a workshop/ house where we saw how to create huge primitive ceramic urns for water storage, small cups of clay on a kick Wheel and how posible it is to work with just minimum resources. in New Zealand We visited the studios of several potters and were able to see and enjoy the highest level of craftsmanship from the potters and artists exhibiting in Sydney and Melbourne.
In New York we enjoyed the incredible first class museums and the accessibility to the small Art Galleries with their inspiring attitude of open to all, uncommon in European capitals.
Having gathered all these different  experiences in 2003 we moved from Madrid  to our finca here in this amazing valley in the northeastern tip of Extremadura, looking for a quiet life in the countryside where to work and start a family. We build our fantastic life project that you see here, a beautiful house, a wonderful studio and a gorgeous trio of girls!!
We continue to live and work inspired more and more by the incredible and generous nature that surrounds us. We look after the land and plant trees, enjoy the seasons, share what we know by giving courses and watch the girls grow overcoming challenges and celebrating successes under the inspiring backdrop of the wonderful mountains during the day and the incredible strarry sky at night.
Emma has a BA Hons degree in Ceramics from Central St. Martin's School in London and completed several months of her training at the Parsons School of Art in New York. Cesar studied for several years at the School of Ceramics in Madrid and finished his training in 2000, winning first prize in the competion awarded by the Spanish  Ministry of Agriculture.